Appointed President of the Pan American Society for Clinical Virology in July 2022 for a two-year term, Dr Esther Babady is a clinical microbiologist specialising in the molecular diagnosis of infectious diseases.
Since July 2022, Dr. Esther Babady has been President of the Pan American Society for Clinical Virology, an organisation that promotes the scientific development and medical practice of viral diagnostic tests. PASCV also strives to improve understanding of all aspects of human viral diseases, including human viral biology, disease manifestations, pathogenesis, immunity, epidemiology, treatment and prevention.
Director of the MSKCC's Clinical Microbiology Department
Dr. Esther Babady has worked for 14 years at Memorial Sloan-Kettering Cancer Center (MSKCC) in New York, a cancer treatment and research centre founded in 1884. MSK has been ranked in the top two "Best Hospitals for Cancer" every year since U.S. News & World Report began ranking hospitals in 1990. Since April 2021, she has been director of MSKCC's Department of Clinical Microbiology; director of the Clinical Microbiology Fellowship Program, a two-year fellowship program for postdoctoral candidates (PhD, MD, DO) that is accredited by the American Society for Microbiology; tenured microbiologist; and professor in MSKCC's Department of Pathology and Laboratory Medicine and Department of Medicine.
As Director of Clinical Microbiology at the MSKCC, Esther Babady's work falls into four categories: administration, clinical, research and education. Her clinical and administrative responsibilities, she explained in an interview, include all aspects of running a very complex CLIA (Clinical Laboratory Improvement Amendments) laboratory. As head of the clinical microbiology service, she is responsible for managing and overseeing the analysis of samples in the laboratory, and provides clinical consultation on the ordering of diagnostic tests and the interpretation of their results. Her research focuses on the development, validation and clinical evaluation of molecular tests for faster and more sensitive diagnosis of infectious diseases, with the aim of improving patient care.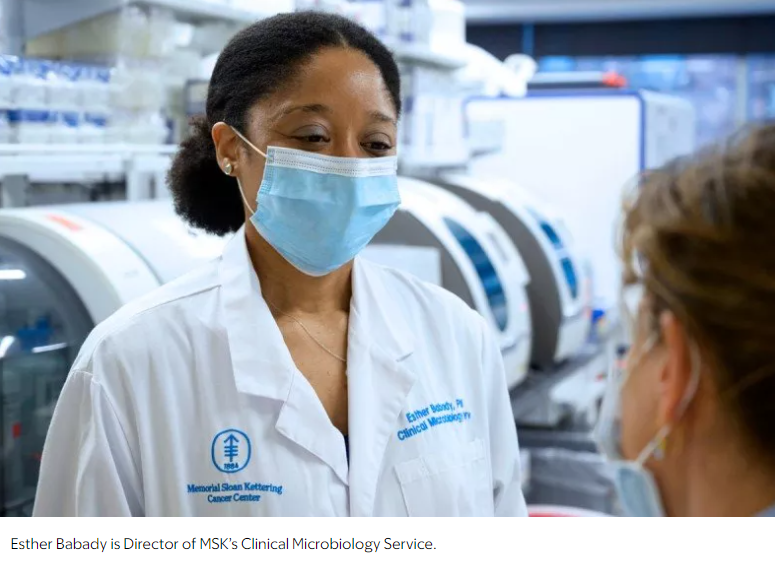 Setting up the first Covid-19 test in New York
A nationally recognised leader in the United States in understanding COVID-19 variants and testing, Dr. Esther Babady has used her extensive expertise in clinical microbiology and molecular diagnostics of infectious diseases to prepare Memorial Sloan Kettering for the coronavirus and ensure the safety of employees and patients. While testing was extremely scarce in early 2020, Dr. Esther Babady and her team developed the first Covid-19 test approved by the New York City Food and Drug Administration. With this test, Memorial Sloan Kettering was able to independently test and trace thousands of employees and patients in the metropolitan area. To further speed up the testing process and protect healthcare workers, its team developed a self-collected saliva test that proved just as effective at detecting the virus. When it became clear that the new coronavirus, or SARS-CoV-2, was beginning to mutate, Ms Babady and her team took the initiative of testing numerous variants and sharing this information with the city's healthcare managers. For this remarkable work, Dr. Esther Babady received the 2021 Whole Health Heroes Award.
Making an impact on patient care
Dr. Esther Babady holds a PhD in biochemistry and molecular biology and completed a CPEP postdoctoral fellowship in clinical microbiology, both at the Mayo Clinic in Rochester, Minnesota, before joining the MSKCC. She is certified by the American Board of Medical Microbiology, a member of the Infectious Disease Society of America and the American Academy of Microbiology.
" I always knew that I wanted to have my research efforts impact patient care but it wasn't until my last year in graduate school that I became aware of a career as a clinical laboratory director. My PhD mentor at the Mayo Clinic, Dr. Grazia Isaya, introduced me to her husband, Dr. Piero Rinaldo, who was the director of the Clinical Biochemical Genetics in the Department of Lab Medicine and Pathology at the Mayo Clinic. Because of my general interest in Infectious Diseases, Dr. Rinaldo connected me to Dr. Frank Cockerill, who was the Director of the Clinical Microbiology Division at the Mayo Clinic at the time. I fell in love with Clinical Microbiology. Never looked back!", she said in an interview with the Association for Molecular Pathology.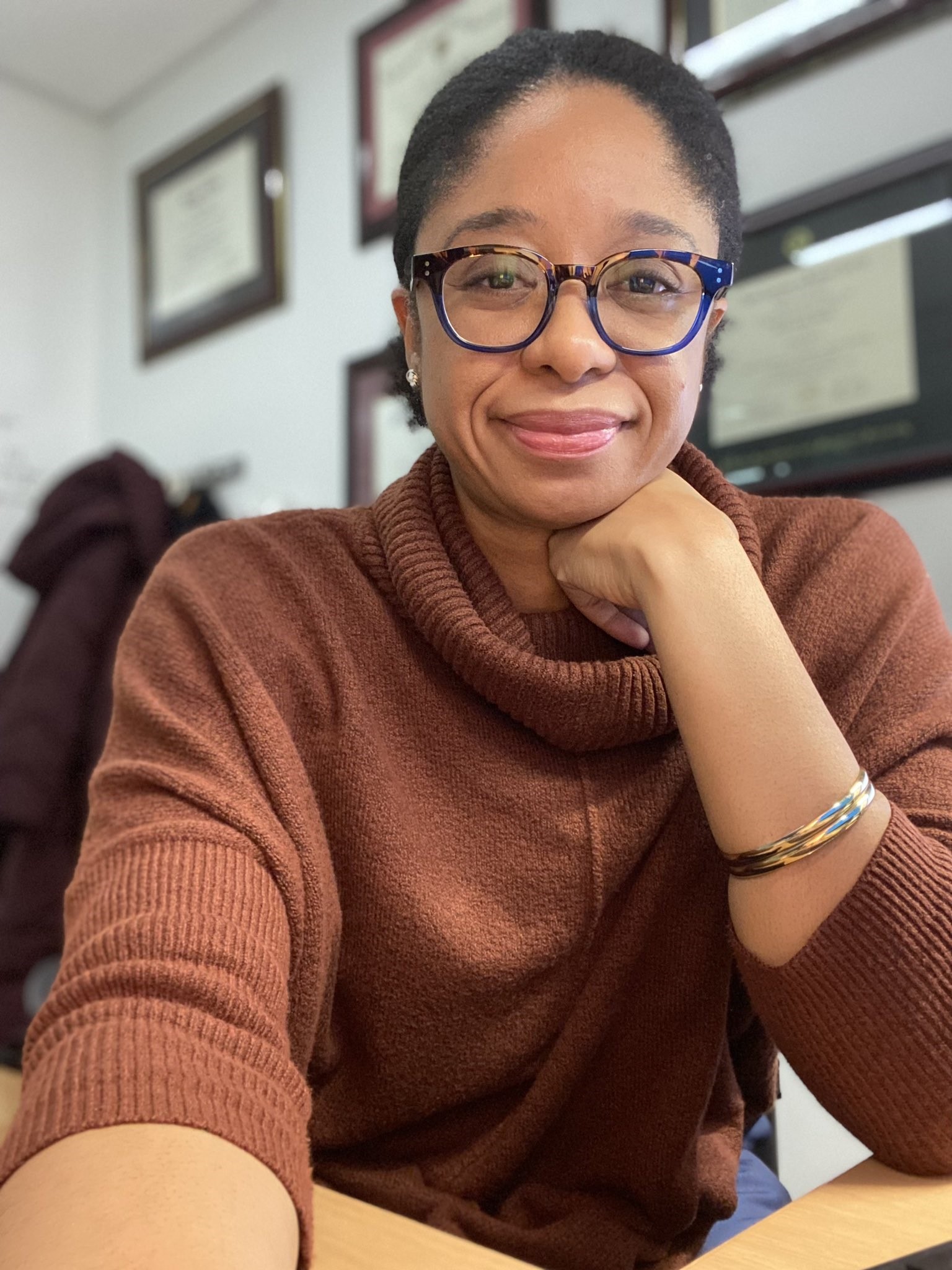 Senior Editor
Dr. Esther Babady serves on several professional committees, including the Clinical Microbiology and Public Health Leadership Committee of the American Society for Microbiology and the Professional Relations Committee of the Association for Molecular Pathology. She is a senior editor at Microbiology Spectrum, a fully open-access online journal that publishes research in all areas of basic, applied and clinical microbial sciences. She is also on the editorial boards of the Journal of Clinical Virology and the Journal of Molecular Diagnostics.
In addition, Dr. Esther Babady is an advisor to EdenRoc, a private biotech company set up to support world-class life science start-ups. She is also a member of the External Advisory Board of RADx® Underserved Populations (RADx-UP), a consortium of 137 research projects investigating COVID-19 testing patterns in communities across the United States and its territories, as well as in US tribal nations.
In 2017, Dr. Esther Babady received the PASCV Memorial Pioneer Award for Young Investigators. This award is given in honour of individuals who have played a significant role in the founding and development of the Pan American Society for Clinical Virology (PASCV). It is awarded to a young investigator who holds a doctorate and is under 40 years of age or within 10 years of obtaining his/her doctorate, in recognition of an individual who has made a significant contribution to the field of clinical or diagnostic virology (either a single article or a body of research) during the first years of his/her career.