Born in the DRC, raised in the US and currently living in Germany, Freda Katunda won the Social Hero award from Global Digital Women GmbH (Germany) in December 2021 for her startup LEAP. In partnership with UNICEF, the London School of Economics, international universities and African organizations, among others, LEAP offers affordable and accessible training for healthcare professionals in Africa. The goal is to increase the capacity of human resources in the health sector and reduce the brain drain.
 Africanshapers: How would you describe yourself professionally?
Freda Katunda: Freda is an experienced professional with over 10-years of experience in academic medical centers, healthcare communications, and healthcare technology. Skilled in Business Development, Digital Health, Health Policy, Management, Teamwork, and Healthcare Management, she possesses strong healthcare consulting knowledge together with a Master's Degree focused in Global Population Health from The London School of Economics and Political Science (LSE). I'm passionate about reducing health and social inequalities globally.
What is your academic and professional background?
I received my Bachelors of Science in Health Management & Policy with a concentration in Public Health from the Univerity of New Hampshire in Durham, NH USA. After graduation, I worked as a Financial and Contract Analyst at Boston Children's Hospital. While working full-time I went back to school and received a Master in Healthcare Administration (MHA) from Suffolk Univerity in Boston, MA USA.  After 3 years of working and school, I was inspired to learn about health and healthcare on a global scale, so after graduating from Suffolk in the Autumn I started my second Master's studies in Global Population Health at the London School of Economics where I received a Master of Science MSc. Global Population Health. During my time in London, I worked as a Communications Associate Intern for Aurora Healthcare Communications where I worked on a project to increase the uptake of innovative medicines across the UK. After my time in London, I moved to Germany where I worked as a Healthcare Economics Consultant for Basecase a Certara Germany GmbH company. With a combined experience in academic medical centers, healthcare communications, healthcare technology, and economics I put the 9-5 down and started a venture doing something I am truly passionate about which is reducing health and social inequalities globally and I am able to do that through LEAP.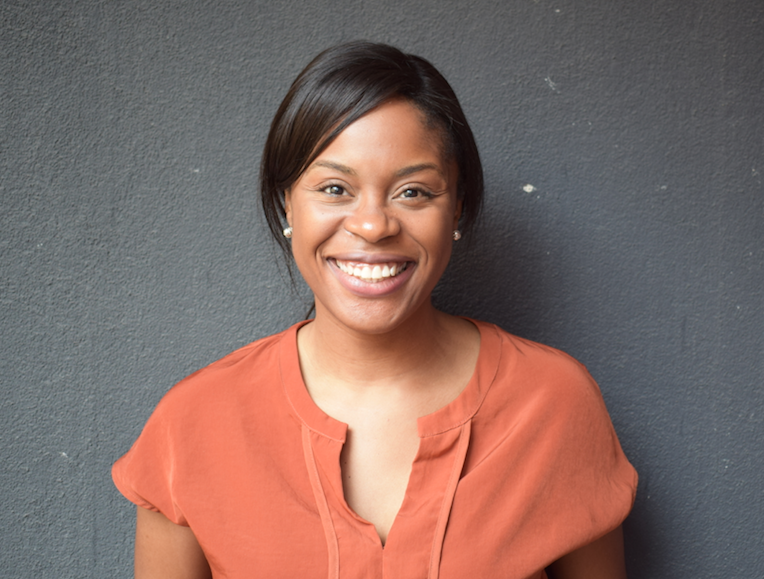 Freda Katunda: What motivated you to launch "LEAP" and what are its objectives?
My personal experience with the healthcare system in the Democratic Republic of Congo where I was born inspired me to get into health and healthcare. When I was sick at a young age with malaria in the DRC, I had to go to the United States to receive proper care because what I needed was not possible in the DRC. LEAP's mission is to increase health human resource capacity and reduce the brain drain by way of providing affordable and accessible online healthcare education to African learners. I had to go to the US because there were no healthcare providers at the time who could offer me the treatment I needed, and this still happens to many to this day across the continent. At LEAP we are equipping those working in the field and those looking to enter into healthcare with the up-to-date knowledge and skills to be able to effectively and efficiently provide care within their communities. Our mission aligns us with the United Nation Sustainable Deevlopment Goals in both Good Health and Quality Education.
What are LEAP's activities and what is its particularity?
LEAP is an online healthcare education provider that provides affordable and accessible education to learners across Africa. We partner with international universities and organizations to create contextually relevant content ensuring the education is representative and reflects the local health needs. What makes us different from other online platforms and we are specifically for Africa, and work closely with universities and organizations in Africa and abroad to provide content that is representative of the local context. Our mission supports our vision of an African healthcare workforce that is equipped and skilled to provide and increase the quality of care across communities.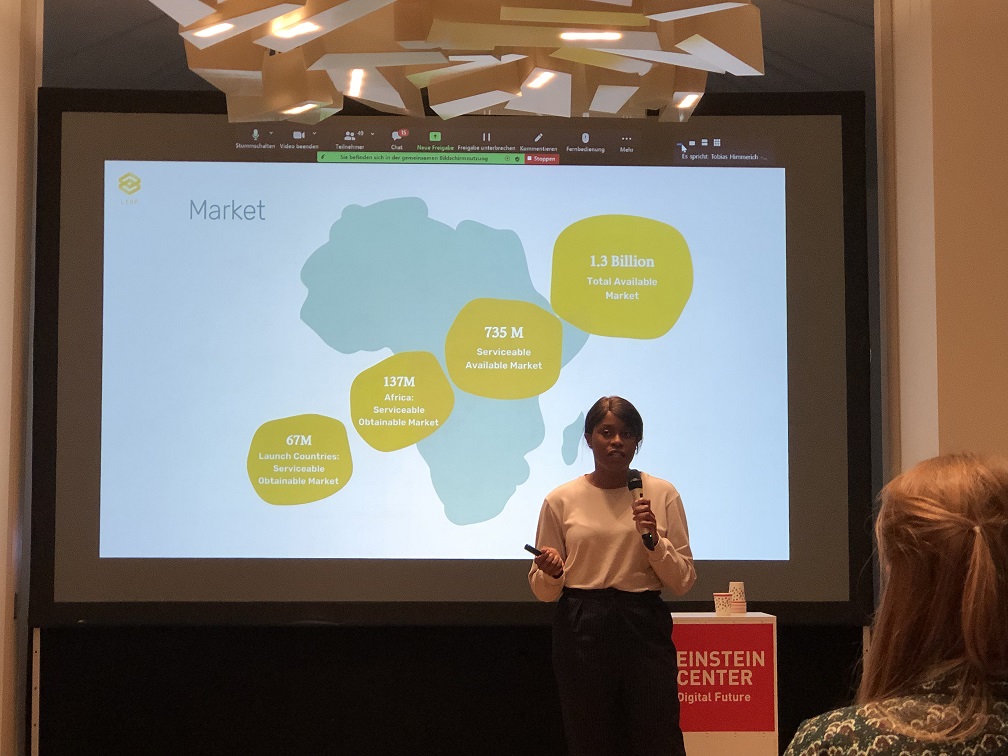 What type of training do you offer on your platform and why did you choose these courses?
We offer short courses and will soon roll out professional certificates. We are currently working in Nigeria, Ghana, Kenya, and South Africa. I mention our demographic first because this guides us in carefully selecting and creating the appropriate courses for our students in these countries.
How many students does LEAP currently have and how much does the training cost?
We launched on December 9, 2021 so it has been a little over 1-month now and we have over 50 students on our platform many of them coming from Nigeria, Ghana, Kenya and South Africa in that order. Our students have access to world-class short format online courses. We are currently offering four short courses in : Community Health Program Evaluation, Overview of Modern Drug Discovery and Development both offered by The University of North Science Health Science Center. Introduction to Digital Health Applied to Physical Rehabilitation offered by HealthPhy and COVID-19 Vaccination Training offered by The Berliner Hochschule für Technik. Courses are released continuously. All short-courses are 45 US Dollars.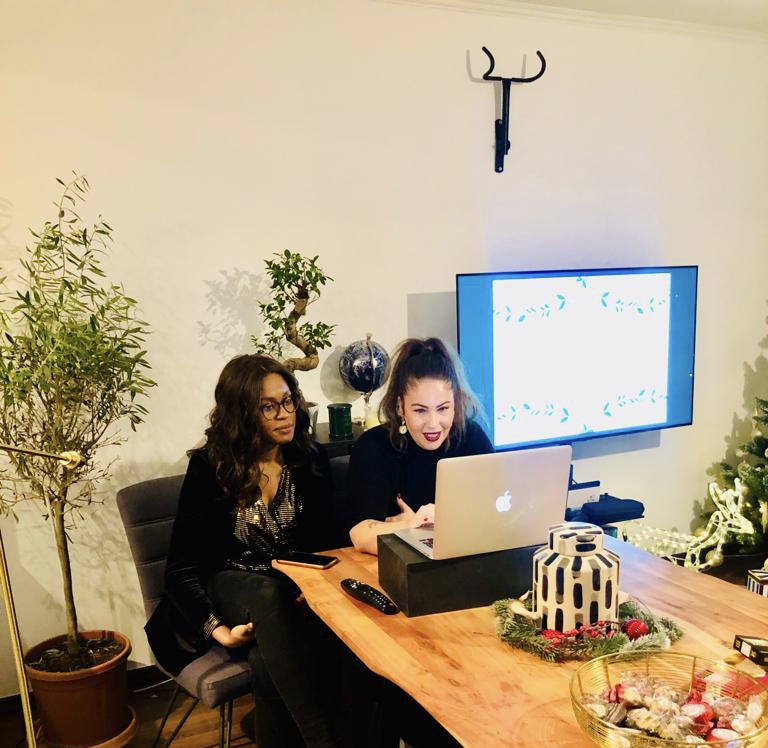 What is LEAP's business model?
Our business model is simple, our partner provides us with courses, the students pays a fee to access the course, and the revenue coming in is shared between LEAP and the educational partner.
You have the support of UNICEF, the London School of Economics and a number of international universities and African organizations. How does this support work in practice and which African organizations are supporting you?
Our support from UNICEF Ghana and the London School of Economics is focused on providing support to LEAP from a business perspective. The international universities and African organizations we work with are our educational partners. A LEAP educational partner supports LEAP in the way of providing and creating educational content for our students.
In December 2021, you received the Social Hero award from GDW Global Digital Women GmbH in Germany. What do you think made you eligible for this award?
DFLA amplifies women in the digital economy. I won this award because I demonstrated strong professional and leadership qualities that drive forward and sustainably shape digitization. Digitization is biggest influencing factor in our economy and society, which has a particular impact on the topics of people and culture, and LEAP is digitizing healthcare education. I won the Social Hero award because of the social impact a digital platform like LEAP has the possibility of creating.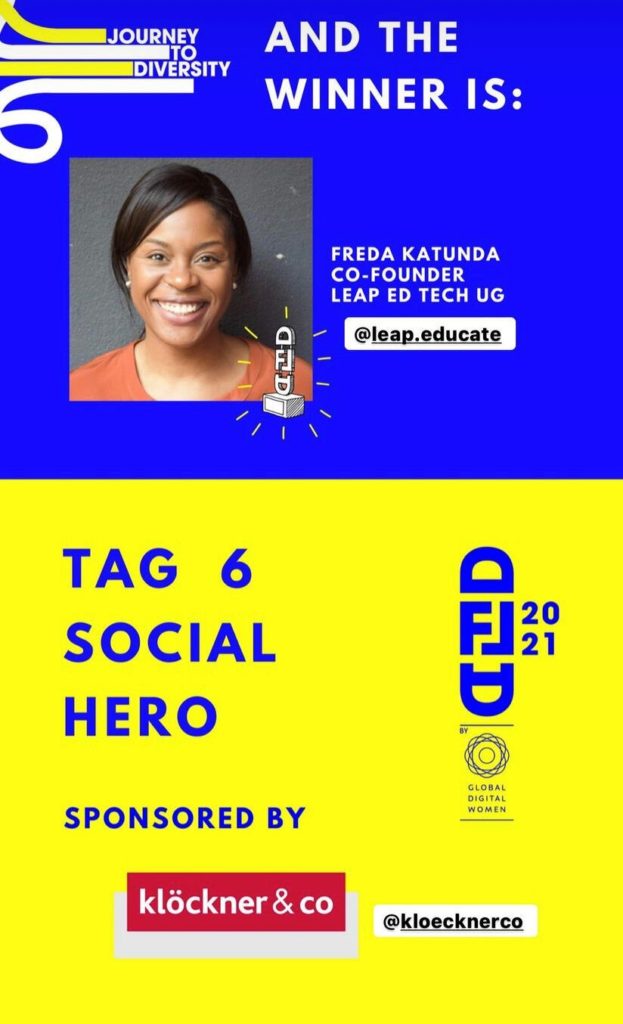 You are originally from the Democratic Republic of Congo, what is your link with this country today?
I still have many family members living in Kinshasa where we are from.
You were born in the Congo, grew up in the USA, and now live in Germany. How did you capitalize on this experience in the creation of LEAP?
My different residences allowed me to view things from three very different perspectives. I think this is really important especially when you are working in a very diverse continent, that is Africa. When we created LEAP I promised myself I would not copy and paste what I know from the USA or Germany but rather step outside of what I know and take the time to really learn where it is that I am. In each place I moved that is what I did and it made living much easier. The same can be applied to business "take the time to understand your market" "Do as the Romans do, walk as they walk", this builds trust and support.
What are the challenges you face in carrying out your work?
Because we are such a young company the two biggest challenges we have are securing funding like every young startup you have to show months of traction so we are at that stage right now of getting the traction we need to secure our next round of funding. Our second biggest challenge is making sure the operations and processes do not get left behind. It is very easy to focus on the product, marketing, sales, BD but then that means the internal organization of things is not getting enough attention which if not addressed can lead to a lot of hair-pulling down the line and disorganization. It is all about creating balance which we are learning to do.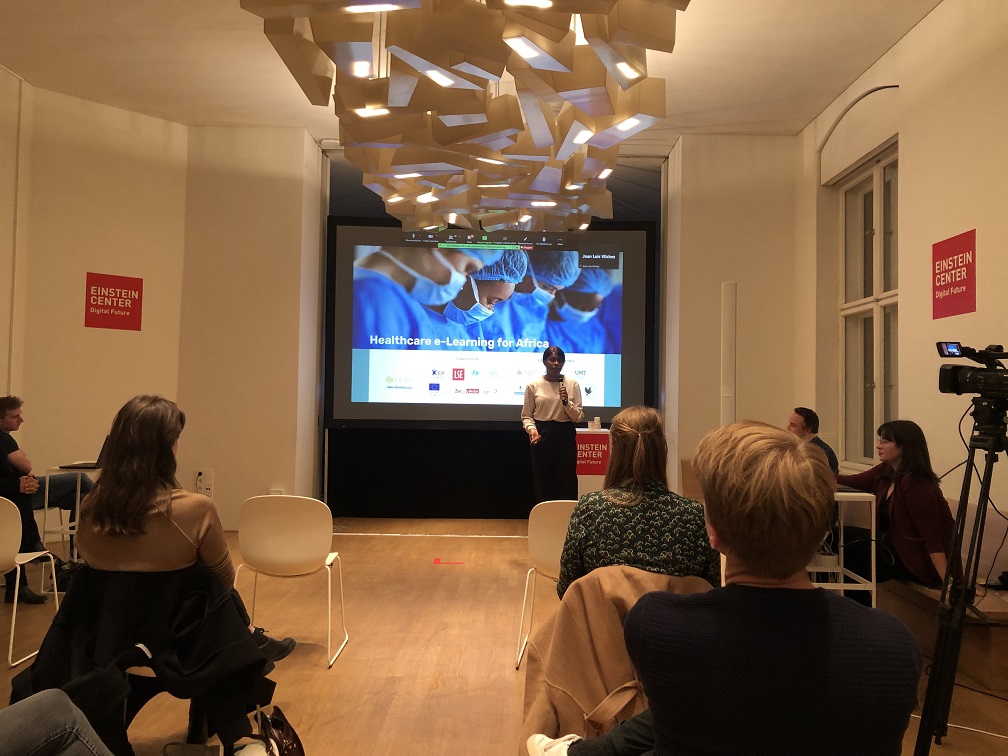 What is Freda Katunda's typical day?
It's not that exciting (laughs). I wake up around 8 AM take my dog out for a walk, come back have breakfast and my ritual morning coffee. After that I do a light workout at home. By 10 AM my computer is open and I start the say reading and answering emails for about 30-45minutes. After that I check off the laundry list of tasks an entrprenueur has to get through i.e. meeting with team members, clients, strategy revision, website optimizations, you name it. I like to go for walks during my break so I take lunch outside (weather permitting). And the day continues until about 6/7 PM. I do my best to be really productive during the day so that I have the evenings to myself. I dont believe in burnout, then I cant be my best self at work.
What is the best advice you have received professionally?
"You do not have to say yes to everything"
Bio Express
Age ? 31
Status (social, marital)? n/a
Source of inspiration? My life and my faith
Bedside book? Americanah by the Nigerian author Chimamanda Ngozi Adichie & Sapiens: A Brief History of Humankind by Yuval Noah Harari
If you had worked in another profession? I would be a columnist writer for Vogue Magazine
If you were a character in the story?
Molly from Insecure
Hobbies? I enjoy traveling and not being a tourist and make sure I experience where I am as a local because you are able to see the real way in which people live. I enjoy learning about others and why we as people do act the way we do and I get to explore that while traveling. I also really enjoy photography. Photography to me is being able to see details and things often overlooked and finding beauty in that.