The 400-page book by the Congolese gynecologist will be published on Thursday, October 14 by the French publisher Gallimard.
Written in the first person, it is explained, "The Power of Women" traces the struggle of a lifetime by going beyond the autobiographical genre. The heroine of the novel is the woman composed of all these women. The author, it is known, pays a real tribute to their courage and their struggle. For him, it is a global struggle: "It is you, the women, who carry humanity", says the Congolese gynecologist.
Thus, it is explained, through the story of a life dedicated to medicine and in a real cry for mobilization, the Nobel Peace Prize 2018 puts the reader in front of the scourge that ravages his country, the Democratic Republic of Congo, and invites to rethink the world. "The Power of Women," she explains, proclaims loudly that healing and hope are possible for all survivors.
The power of the word
In his book, for example, Dr. Denis Mukwege recounts the story of a 12-year-old girl who was the victim of an atrocious gang rape and who managed to testify before a military tribunal. "In the practice of rape, silence is an absolute weapon of the executioner. The fact that this little girl spoke to a general, with courage…The strength of her word made a general collapse, he fainted. This shows the vulnerability of all of us. Sometimes we think that women are more vulnerable, but we are all vulnerable," explained the Congolese doctor on the French channel France Inter. On the subject of women abandoned by their families after a rape in the Democratic Republic of Congo, the Congolese doctor said: "With these women, I discovered that treating the physical wounds was not enough. They have much deeper psychological wounds, because they are rejected and accused of a fault they did not commit, and their torturers are at large.
In addition, Dr. Mukwege said, "I believe in the strength of women. When I see the state in which women arrive at the hospital, this capacity to transform pain into power, for me it is very impressive.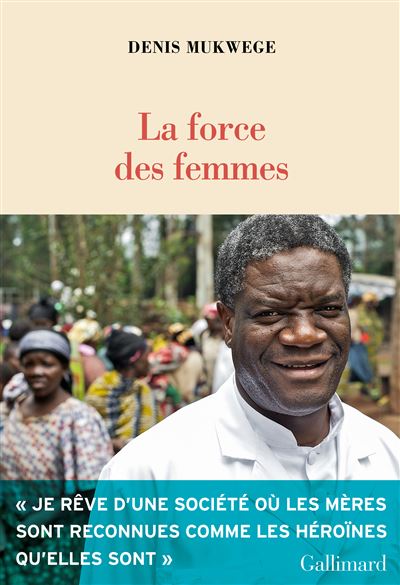 Dr. Denis Mukwege is already the author of the book "Plea for Life," published in 2018 and co-author of the book "Repairing Women," co-authored with Belgian surgeon, Guy-Bernard Cadiere, published in 2019.
Gynaecologist and surgeon Denis Mukwege has dedicated his life to women victims of sexual abuse in the Democratic Republic of Congo. In a region where mass rape is considered a weapon of war, Dr. Denis Mukwege is confronted every day with the monstrosities of sexual violence, against which he fights relentlessly, sometimes at the risk of his own life. In 1999, he founded the Panzi hospital, where he promotes a "holistic" approach to care: medical, psychological, socio-economic and legal.